I'm ending Dreamcatcher. Expect to see it return as a story later. Staitus gets epic awesomeness if he joins this one.
2012- The so-called "End of The World". It caused massive confusion and panic all around earth.
2026- Olaf Nystrøm gets elected as Sweden's prime minister. His politics are far to the right on the political scale.
2027- Norway ends all trade with Sweden, in protest to the government.
2030- Olaf Nystrøm gets re-elected. USA starts secret projects.
2031- War breaks out between Belarus and Russia. Russia claims that they are trying to end the dictature.
2032- USA starts secret testing of their project. Sweden supports Russia.
2033- USA drops a bomb in the Pacific Ocean. Tsunamies strike Normandie and the American West Coast. Massive destruction. People are killed by radiation almost instantly.
2034- Russia and Sweden declare war on USA, claiming that the bomb was a failed attempt at destroying them.
2037- The strongest nuclear missile ever is dropped over Paris. The end of human civilization.
Only a few persons survived. The radiation would normally have killed them, but a new power, mana, awoke. It caused plants to grow, animals to mutate, and humans to adapt. After some years, five races of antropomorphic animals inhabited the world. Your quest is to gain control over the enormous powers that hide in the radioactive energy.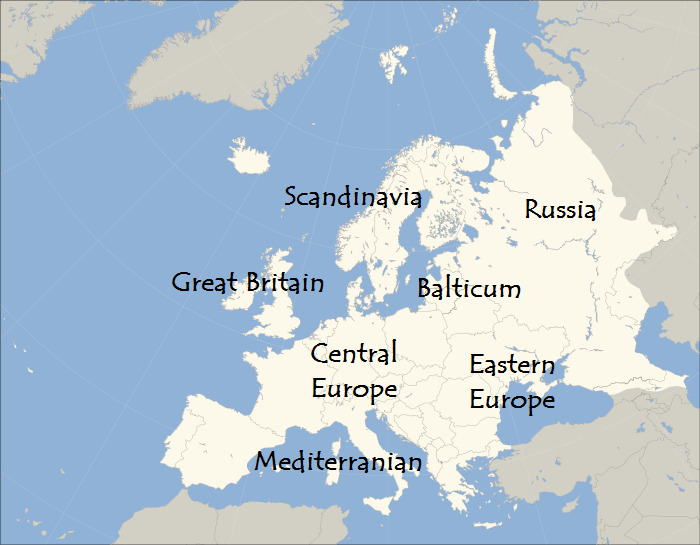 Scandinavia
The northern part of Europe. Consists of Norway, Sweden, Denmark, Finland and Iceland. Most of this region is covered by ice and glaciers, and the radioactivity is still quite strong as the particles have been absorbed by the ice. Some ghost cities still exist.
Russia
About as cold Scandinavia, but with less glaciers. Several millitary bases have survived, and are more or less intact. They may hide secret weapons.
Great Britain
The former capital of tea and faggots (a type of meatball). Now, a giant forest of tree species that have newly appeared out of nowhere.
Balticum
One of the most boring areas of Europe. Everything is destroyed, and many cities can stil be recognized. Beware of the predators that run around the streets!
Central Europe
Nothing else is left than a giant crater, with deadly radiation and high volcanic activity.
Mediterranean
This area has now turned into a swamp, filled with mutated creatures. Most cities have sunk down into the mud.
Eastern Europe
Home of ancient culture, which has now been mostly destroyed. Special properties of the soil has made this area the one with most mana radiation.