First of all, I'm quitting the realm of Gods. It got extremely ridicoulous when Gia fell in a bucket of sperm and Death started getting raped by mermaids. Sorry for being a drama whore in advance, if you feel compelled to express it, btw. ALSO: Those who played actually played a session of Realm of Gods, you get two abilities.
Synopsis
The year is 3020, and things don't look good for humanity. The human earth is swiftly running out of resources, and the future doesn't look good. However, life went on normally, without much commotion. It was a day-to-day job, in which no one had time for another. That is, until the "incident". No one really knows how or why the incident happened- it just did. A chemical reaction that involved all the rays in the electro-magnetic spectrum were sprayed across the world, infecting everyone and everything in the earth. Some people died deaths as soon as the ray hit them, and others were poisoned, making their life sip away minute by minute. However, a medium amount of people were affected by the gamma-ray in what could be called a good way- they were given powers. However, the powers were implanted in different ways- some were mutants, some cyborgs, and some were an enchydral. The world will never be the same, as you- the players- shape it to your willing.
Goal of the Game
The goal of the game is really whatever you want it to be. You can gain power, make allies with players and NPCs, you can have a job in a thriving city, you can destroy the world, or you can try to reverse the incident. The point is that the goal of the game is what you decide. A frequent choice is it rule the world, with either an iron fist to slave everyone, or cleanse the world of these abnormalities and find the way to a better world In your eyes.
Classes
Outcast- You are an outcast of society, and have learned to live on your own. You've had no real love, and have a (+5) strength and (+5) agility. However, due to your upbringing, you have (-5) intelligence. You start off with a double bladed knife and and a plasma pistol.
Soldier- You are a regular general class, and have learned to rely on support, but you can survive on your own. You've had a medium upbringing, and are satisfied with your life. Due fighting in formations and having strong shields, you have (-5) agility because you have never had to dodge a bullet. Dye to your training, you have (+5) accuracy and (+5) Stretgh. You start off with a regular plasma infantry rifle and a portable expandable plasma shield.
Assassin- You have had more experience in stealth than most others in Earth, but not much with close-to-combat fighting. Due to your experience, you have (+5) agility and (+5) accuracy. You start off with ten plasma grenades, and a plasma sniper rifle.
Fighter Types
Mutant- You have the ability to choose whatever mutant power you want, as long as it's not OP. It can be copied from X-Men, or it could be something original. The only powers which are off-limit is super-strength, and the control of darkness, light, fire, earth, wind, or water. However, mutants can still use variations of this like metal or ice. Your abilities can branch out as your level does, and you can choose between the 4-5 options I give you of what your ability will branch out to.
Cyborgs- A part of a robot has been transfused into you, to help you survive the incident. Like the mutants, you can choose the power you have, as long as it's not too over-powered. Sorry for those who wanted to be iron man or something, but your machine evolves with your level, so you will get there sometime. Like the mutants, the abilities you cannot se is darkness, light, earth, water ,wind, and fire. However, cyborgs cannot use variations of these. You can choose your ability, and it will branch out, like the mutants. For example, if I was a cyborg, I might choose an EMP pulse, ehich shorts out all plasma weapons and shields for five minutes.
Enchydral- A half- human half-demon creature of some sorts. These creatures have the option of choosing either light, darkness, fire, earth, water, or air. I've decided to let you choose the starting ability, a low-level spell which uses that element, as long as it's not too OP. For example, if you chose the element of light, you could create a small flare of light that blinds the enemy momentarily. And yes Staitus, I did put the darkness element for you =3
Stats
You get 15 free stats, plus the stats which correspond to the class you chose.
Strength-( The amount of damage you can deal with your bare fists and your weapons/abilities)
Agility-( The higher this stat is, the higher chance you can escape an attack. It also lets you run faster.)
Intelligence-( In all the races, there are books which will help you expand your skills. The more literate you are, the greater spells/abilities you can use.)
Accuracy-( The higher the accuracy, the higher chance of a hit rate you're your weapon/spell/ability)
Map
[img]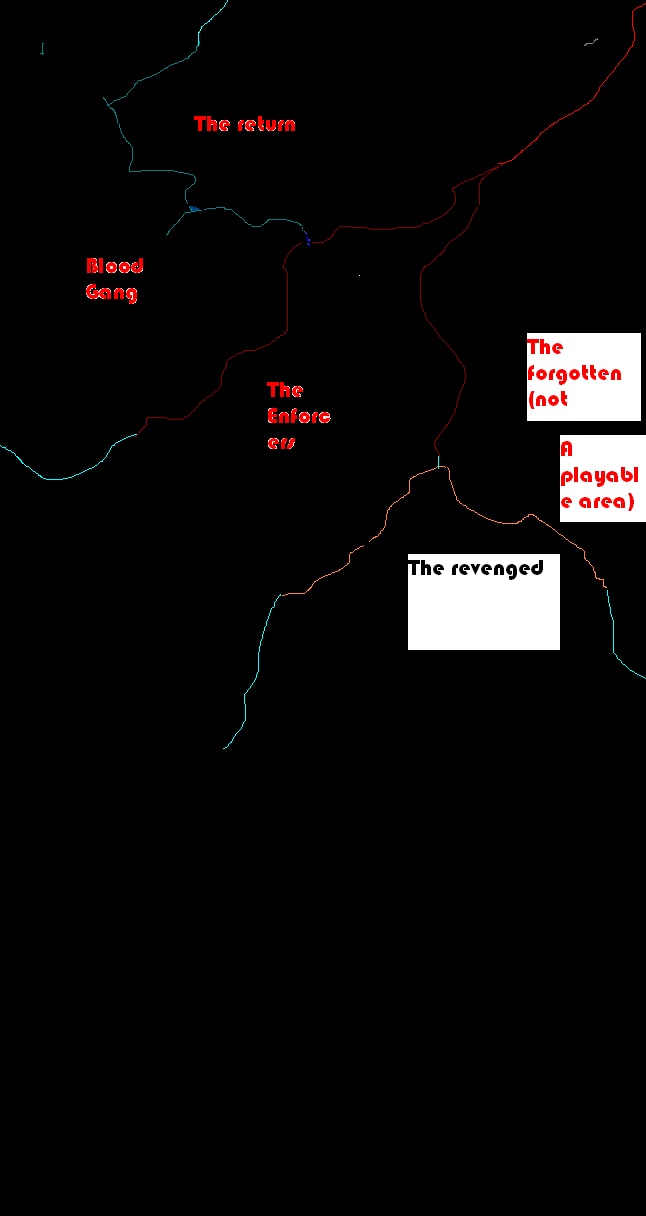 [/img]
Any of these gangs are playable regions, except for the forgotten, because in the first two minutes your going to be shot, eaten, raped, and god knows what. These are the names of the gangs- and players can get to be leaders of them. It's a come first (make a sheet, choose the location). You can reside in the areas, and if you're the first one to do so, you can be the leader! You can also choose it's purpose.
Levels
Unlike most games, your levels have nothing to do with stats. Levels determine on what stages your abilities branch off to; the higher the level, the faster your ability will branch off.
Weapon
Sorry, but you don't start off with money. You have abilities, and you have gold.
Scars
You gain one scar when you die, and you can allocate it in any part of the body as you wish. The number of scars you get labels you as a pansy, so the more scars you have, the less seriously NPC's will take you.
Spell Books
Throughout the game, there will be several "spell books". These books help all races, and all classes. These books will help you level faster, and help you branch out your ability even if you do not have the level point to do so. However, you need a certain amount of literacy to fully understand the book. These spell books cannot be bought by the imperial guard, but only through smugglers, who can only be found in certain areas, like The Forgotten. Each spell book will have a certain passcode, or key which I will PM to you. You will PM me back the passcode, but change it into a name you like. Here's the reason- if you want to be greedy and use the power, you can change the original passcode to your fitting, but it only works for you. If you wish to be generous, or to bribe, you can reveal the original passcode, and those players will have to make their own passcodes. It may sound confusing, but here's how it works.
Me: OK, Gia, I just PM'd you the original passcode, which is coughdrop.
Gia: OK, thanks! I want to personalize it to be called Incthus, to sound cool.
Death: FUUUUU-How come Incthus works for Gia and not for me?
Gia: -smirks-
Remember, the stronger an ability, the more words you'll have to say. If you wish to use a complex ability or spell, there'll be a letter minimum. Also, your intelligence determines on how long it takes you to say the spell.
Character Sheet
Name:
Level:
Strength:
Accuracy:
Intelligence:
Agility:
Inventory: (150 Gold)
Number of Scars:
Ability:
Passive Ability:
Location: ( choose an area on the map)